Do you know the most effective order to do your KettleWorx workouts?
No.
18
Do you know the most effective order to do your KettleWorx workouts?
Because the weight of the kettlebell is centered BELOW the handle, when you swing the kettlebell, nearly every muscle in your body has to work hard to counteract the momentum. This is just one of the secrets behind why KettleWorx is so effective!
CHECK OUT THE KETTLEWORX FAN PAGE
Find us on Facebook for exercise ideas, user forum, nutrition tips, KettleWorx news and more!
BECOME A FAN!
KETTLEWORX QUESTION AND ANSWER
Q - What do I do with ALL these DVD's?
I just purchased your Kettleworx DVD's but need to know what's the schedule? I know it's 3 times a week, but not sure which DVD to start with? My goal is to lose some weight and get a nice sexy, toned body! Can you please help guide me with the best work out schedule?
Thank You,
Agnes
A - Thank you for your question Agnes. Below is exactly how I developed my KettleWorx program to be synergistically used for maximum results.
Pick 3 days of the week for your primary Core, Cardio and Resistance 20-minute workouts (e.g. Monday, Wednesday, & Friday).
KettleWorx BASIC Program:
Monday: Core
Wednesday: Cardio
Friday: Resistance
Select "1″ from the screen menu in your first week of working out. Select "2″ in your second week of working out and so on. EACH week you will be doing 1 workout for Cardio, 1 workout from Core and 1 workout from Resistance DVD's. It is important that you workout with each of these DVD's every week.
Follow the KettleWorx MAX Program if you have Turbo-Charged Motivation:
Monday: Core
Tuesday: Fast Abs (Bonus 10-minute workout)
Wednesday: Cardio
Thursday: Fast Fat Burn (Bonus 10-minute workout)
Friday: Resistance
After completing the 6-week program, move on to the 6-week Level II DVDS…
KettleWorx ADVANCED Level II Program:
Monday: Cardio Level II
Wednesday: Core Level II
Friday: Resistance Level II
After completing your 6-week Level II program, use your Ultimate Body Collection DVDs for extra target area spot sculpting.
KettleWorx Ultimate Body Sculpting Collection Rotation (Repeat this Rotation 4 Weeks, and then go back to Six-Week Body Program with a heavier Kettlebell):
Day 1: Butt & Hips
Day 2: Rest
Day 3: Chest & Back or Arms & Shoulders (alternate each week)
Day 4: Rest
Day 5: Legs & Thighs
Day 6: REST
Day 7: REST
To Your Success,
You don't have to cook fancy or complicated masterpieces - just good food from fresh ingredients.

Julia Child (1912 - 2004)
Chunky Monkey Smoothie:
A curiously delicious Protein Shake featuring chocolate and banana! Ingredients:
Proventive Vanilla Protein Powder (now available at KettleWorx.com)
Almond Milk
Dark Chocolate Powder
Banana
Put all the ingredients into your blender. Mix until smooth. Pour and ENJOY!!
See more delicious, healthy recipes.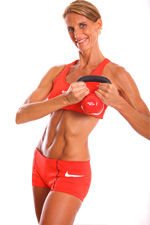 "Life is like a ten speed bicycle. Most of us have gears we never use." -Peanuts cartoonist, Charles M. Schulz
I bought my 1st 10-speed bike when I was 12 years old. I'll never forget the thrill of being able to shift into the lowest gears and pedal uphill with ease. It was so much fun to be able to breeze along with little effort that I rarely ventured beyond 3rd gear! It wasn't until years later that I realized the untapped potential and speed I could have achieved if I'd used all 10 gears!
When I first discovered the KettleWorx DVDs it was a challenge to complete a full workout. After 6 weeks the workouts became so addictive and rewarding I wanted to do more. I figured if 20 minutes was good…then 40 or even 60 minutes must be even better!
You might assume as I did that I'd get "really ripped" by increasing my KettleWorx workout duration to 40 - 60 minutes … Wrong! I started to lose my muscle tone, my abs got softer and I was tired!
When I asked Ryan about it he said, " Stop doing counter productive hour long workouts, and push yourself into a higher gear for the 20-minutes"
I took Ryan's advice and went back to my 20-minute KettleWorx workouts. This time I challenged myself by moving up to a 15 lb kettlebell, instead of my 10 lb and focused on keeping up with Ryan's exercise speed on the Advanced Level 2 DVD workouts. Guess what! My abs came back even better, and I now have more time again in my day for the most important people in my life, my family, friends and work colleagues!
KettleWorx. 20-Minutes. It's what I do. It works!

FEATURED TESTIMONIAL
Meet Linda D… Over 70 lbs lost with KettleWorx!
Like many of us, Linda once had more time and was able to spend hours committed to going to a gym and working out. But that was "B.C."—Before Children! She wrote to tell us, "I wish I had known about kettlebell workouts a long time ago where I would have been spending over an hour and a half at the gym with no where near the same results!"
Club memberships are great for some, but most of us in time find that the time, effort and monthly membership fee of a club aren't compatible with our lifestyle anymore. Enter KettleWorx!
"I just wanted to say your workouts are great! I have lost over 70 pounds since starting them 7 months ago and after having had 2 children I am more slim and toned than I was before having had kids! Your exercises are very simple and effective and I have amazing abs!! I am so happy with the results but the beauty of it is I don't need to take too much time out of my busy schedule! My 4 year old also tries to do the kettlebell exercises with a bell while I do them, which is too cute!! And the baby loves watching me work out as well!! Everywhere I go people ask me how I lost so much weight and I always tell them!"
Thanks again!
Linda D.
===================================================
Inspire others with your success story! If featured, you'll receive the Advanced Level II Six-Week Body Transformation Series DVD's! Email us at testimonials@kettleworx.com to tell us about how KettleWorx has worked for you. Be sure to include your before and after photo!

KETTLEWORX WORKED?
We would love to hear from you! To be featured in our next newsletter, send us a photo and tell us how KettleWorx worked at testimonials@kettleworx.com
ENTER COUPON CODE:
KWSAVE10
KETTLEWORX KETTLEBELLS!
KettleWorx Premium Kettlebells are unsurpassed in quality. Made from high-grade alloys, each has a vinyl coated body for durability and added safety.

---
KETTLEWORX ADVANCE
TAKE YOUR FITNESS TO THE NEXT LEVEL!
KettleWorx Advance is for those who have completed the Six Week Body Transformation. With KettleWorx
Advance you'll receive an additional six weeks of personal kettlebell training - including 18 entirely new workouts with nearly 100 more advanced kettlebell exercises.
$49.95

Like Kettleworx?
Click Here to forward this
email to a friend.
Copyright© 2010 FitnessWorx, LLC. All Rights Reserved. You are receiving this email because you have purchased a product or opted-in at www.kettleworx.com. Click here to remove me from this list. To ensure that you continue to receive emails from us, add newsletter@kettleworx.com to your address book.