Friday, May 22nd, 2009
Simply said, swinging the Kettlebell is FUN as WCCO's Anchor, Angela Davis found out for herself when we introduced her to KettleWorx! While most people haven't swung a Kettlebell as a kid—most everyone CAN relate to the sensation of a teeter-totter or swinging at the playground! Angela's first 2 Hand Swing had her shriek in delight just like a kid (a common reaction) as she experienced the thrill of "catching air" with the short pause at the top of the 2-Hand Swing only to quickly feel the pull of gravity speed up again on the way down! Angela could relate the familiar movement of pumping her legs on a swing, to the hip thrust which begins the change in direction of the kettlebell swing. Another helpful analogy for Angela was imagining a teeter-totter: with her body acting as BOTH people on the teeter-totter by actively initiating the change of movement at both the TOP of her swing and at the BOTTOM!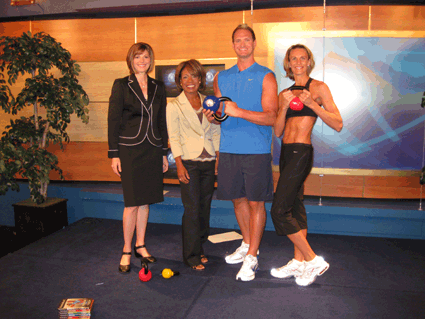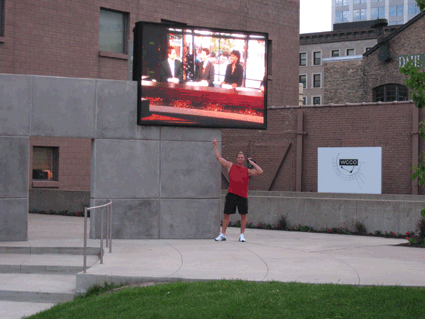 One of the most effective ways for fitness to be long-lasting is to be FUN! As Angela (and many others) have found out—relating KettleWorx to the fun of being a kid makes fitness easy!! Not to mention with getting her KettleWorx Workout in early, Angela got to enjoy a birthday celebration on the set by having her (cup)cake and eating it too without feeling guilty!