Friday, April 24th, 2009
PHILADELPHIA—Spring was definitely in FULL swing in Philly! The vibe was evident from the minute we arrived—The Penn Relays (largest annual U.S. Track & Field Competition since 1895) had more than 15,000 high school, college and track club participants in town! The Phillies were gearing up to play The Brewers and that night the Philadelphia Flyers pulled off a shut out on home ice against the Pittsburgh Penguins (3-0) in Game 5 of the Stanley Cup Playoffs! Arriving at NBC the following morning we KNEW it was going to be a GREAT time when we saw the charismatic "Red Hat Society" women, wearing their signature RED hats and purple dresses anxiously waiting outside the studio to be a part of the LIVE audience!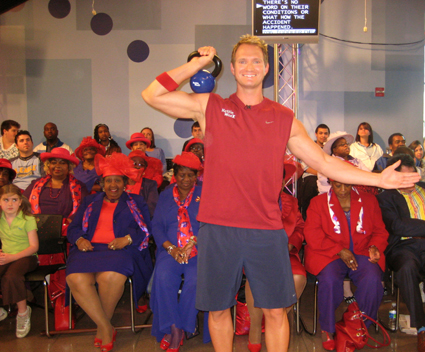 Bill Henley, the affable host of The 10! Show, was more than entertaining as he demonstrated the potential of KettleWorx Kettlebell exercises to unleash his hidden dance floor moves! Don't be surprised if you see Bill Henley on the next Dancing with the Stars!!
After The 10! Show we took in a quick walk around this impressive city—taking in the incredible brickwork, architecture and sculpture!! What a great surprise to discover Rodin's famous sculpture, The Thinker before heading on to our next stop on the KettleWorx Tour!