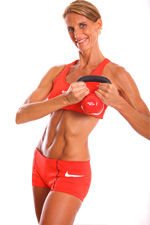 "Life is like a ten speed bicycle. Most of us have gears we never use." --Peanuts cartoonist, Charles M. Schulz
I bought my 1st 10-speed bike when I was 12 years old. I'll never forget the thrill of being able to shift into the lowest gears and pedal uphill with ease. It was so much fun to be able to breeze along with little effort that I rarely ventured beyond 3rd gear! It wasn't until years later that I realized the untapped potential and speed I could have achieved if I'd used all 10 gears!
When I first discovered the KettleWorx DVDs it was a challenge to complete a full workout. After 6 weeks the workouts became so addictive and rewarding I wanted to do more. I figured if 20 minutes was good…then 40 or even 60 minutes must be even better!
You might assume as I did that I'd get "really ripped" by increasing my KettleWorx workout duration to 40 - 60 minutes … Wrong! I started to lose my muscle tone, my abs got softer and I was tired!
When I asked Ryan about it he said, " Stop doing counter productive hour long workouts, and push yourself into a higher gear for the 20-minutes"
I took Ryan's advice and went back to my 20-minute KettleWorx workouts. This time I challenged myself by moving up to a 15 lb kettlebell, instead of my 10 lb and focused on keeping up with Ryan's exercise speed on the Advanced Level 2 DVD workouts. Guess what! My abs came back even better, and I now have more time again in my day for the most important people in my life, my family, friends and work colleagues!
KettleWorx. 20-Minutes. It's what I do. It works!