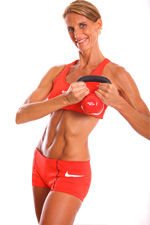 "The greatest accomplishment is not in never falling, but in rising again after you fall." - Vince Lombardi
At 42, I can finally say, "I'm an athlete." I haven't been one all of my life. Growing up I was neither coordinated nor competitive (due in part I'm sure to lack of confidence in my physical ability). My parents introduced me to a variety of activities and supported my interests. But even more importantly they recognized EFFORT over achievement. The first time I tried out for cheerleading, I wasn't surprised when I didn't make it. But the next year I tried again and I made it! The sound of "football cheerleader" was more impressive than it really was; hockey was the only sport that had any real following at my school. I didn't care. I was thrilled. That night my Mom took me out to a special dinner and asked if I knew why we were celebrating. Trick question I wondered, but replied with the obvious, "Because I made it." To which she explained, "No, It's not because you made it. It's because last year you tried and DIDN'T make it, but you went back, TRIED AGAIN and were successful!"
I'd like to say that was the turning point of when I tapped into my inner athlete…but I'd be lying. Not only did I NOT make cheerleading the next year and gave up, but I spent way too many years downhill skiing simply because I loved the hot chocolate and sprinkled donuts to get away with that claim! But I can say it all changed for me right before I hit the "Big 4-0!" Thanks to KettleWorx, I've developed strength, flexibility, and an athletic mindset that I never before imagined I was capable of developing. I can do things now at 42 that I couldn't do at 24 or even 14!
This past Sunday, I ran the Twin Cities 10-Mile Run for the first time and finished in 1 hour 27 minutes 55 seconds. I finished in the top 21% of all the women in the field! Thanks to KettleWorx, I now feel empowered to try something new that I wouldn't have thought I would have been able to do!