Finding Your Inner Athlete! The KEY to unlocking your personal best!
No.
20
Finding Your Inner Athlete! The KEY to unlocking your personal best!
KettleWorx has burned off over 100,000 pounds of ugly excess body fat since 2009! No wonder a recent study by the American Council on Exercise called the Calorie Burn of KettleBells "off the charts"!
CHECK OUT THE KETTLEWORX FAN PAGE
Find us on Facebook for exercise ideas, user forum, nutrition tips, KettleWorx news and more!
BECOME A FAN!
KETTLEWORX QUESTION AND ANSWER
Q - Hi Ryan…Is everyone following the diet and that is why the great results?

Diane Hamel-Hamilton
A - Thank you for your question Diane.
The somewhat "miraculous" thing about KettleWorx training is that when structured correctly, nutrition is incidental. Fat just burns off you anyway. With that being said, if you want the fastest and longest lasting HEALTH results, you should also dial in your nutrition. Here is my simple formula for weight loss:
#1 Rule of 3: Eat Every Three Hours
Eating increases your metabolism. So the more often you eat, the higher your metabolism will be. When you only eat once or twice a day, your metabolism goes into fat-storing mode as a means of survival. Feed your body constantly and you'll feel and look better. You know who eats two meals a day? A sumo wrestler. Think about it.
#2 Stay Hydrated
I know there's nothing sexy about drinking water, but about two-thirds of your body weight is water. If you don't drink enough water, your metabolism will suffer and weight loss will be slow. As a rule of thumb, in between meals aim to drink half your body weight in ounces.
#3 Burn Fat with Protein, Greens, and Berries
Instead of counting calories, I focus on supplying nutrients. KettleWorx workouts are fast and challenging, therefore, it's necessary to feed your body foods high in the Nutrients it needs for recovery. Proteins, Green vegetables and Berries are the superstars. Eat eggs for breakfast, mix berries into your protein shake and eat a salad at most dinners. Nothing works better, or faster, to reshape your body.
Finally Diane, each week you should have one "cheat" meal. This is just like it sounds. You can eat whatever you want, as long as you don't stretch the "meal" into an all day marathon. As long as you don't challenge your friends to see who can finish a large, pepperoni pizza fastest, you'll be fine. In fact, one cheat meal each week will jumpstart your metabolism and gives your mind a break.
To Your Success,
You don't have to cook fancy or complicated masterpieces - just good food from fresh ingredients.

Julia Child (1912 - 2004)
KettleWorx Crustless Mini-Quiche
16 Egg Whites (You can purchase liquid egg whites in dairy section)
1 Pkg Reduced Fat Feta Cheese (crumbled)
2 Tomatoes (chopped)
Preheat Oven to 400 degrees. Lightly spray with non-stick cooking spray. Whisk the crumbled Feta, chopped tomatoes and egg whites in a large bowl. Pour egg mixture into 8 regular size muffin pans. Bake 7 minutes. Easy to reheat in the oven or microwave.
Nutritional breakdown:
Serving Size = 2 Mini-Quiches
Approximate Calories = 148
Protein = 14 Grams
Total Fat = 4 Grams
See more delicious, healthy recipes.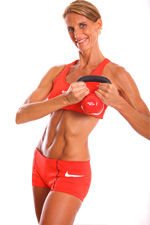 "The greatest accomplishment is not in never falling, but in rising again after you fall." - Vince Lombardi
At 42, I can finally say, "I'm an athlete." I haven't been one all of my life. Growing up I was neither coordinated nor competitive (due in part I'm sure to lack of confidence in my physical ability). My parents introduced me to a variety of activities and supported my interests. But even more importantly they recognized EFFORT over achievement. The first time I tried out for cheerleading, I wasn't surprised when I didn't make it. But the next year I tried again and I made it! The sound of "football cheerleader" was more impressive than it really was; hockey was the only sport that had any real following at my school. I didn't care. I was thrilled. That night my Mom took me out to a special dinner and asked if I knew why we were celebrating. Trick question I wondered, but replied with the obvious, "Because I made it." To which she explained, "No, It's not because you made it. It's because last year you tried and DIDN'T make it, but you went back, TRIED AGAIN and were successful!"
I'd like to say that was the turning point of when I tapped into my inner athlete…but I'd be lying. Not only did I NOT make cheerleading the next year and gave up, but I spent way too many years downhill skiing simply because I loved the hot chocolate and sprinkled donuts to get away with that claim! But I can say it all changed for me right before I hit the "Big 4-0!" Thanks to KettleWorx, I've developed strength, flexibility, and an athletic mindset that I never before imagined I was capable of developing. I can do things now at 42 that I couldn't do at 24 or even 14!
This past Sunday, I ran the Twin Cities 10-Mile Run for the first time and finished in 1 hour 27 minutes 55 seconds. I finished in the top 21% of all the women in the field! Thanks to KettleWorx, I now feel empowered to try something new that I wouldn't have thought I would have been able to do!

FEATURED TESTIMONIAL
"Your personal potential is not limited to just one area of your life … it spills over like a waterfall and pools together with others of like minds and abilities." –Author Unknown
Meet Val E. (age 49) and husband, George (age 48). Val's been a KettleWorx User since May 2009 and has lost 20 lbs!
"Believe me…it works!! I recently saw a massage therapist that hasn't seen me in a couple of years and she said 'OMG what have you been doing, you look great.' I have always been active, but never liked any type of strength training until I started KettleWorx. As my age was getting closer to 50 than 40, my body was changing and not for the better. I needed to do something to change my metabolism and give it a boost. I have reduced a lot of refined carbohydrates, but that is about all I changed in my diet."
By doing KettleWorx 2-3x a week and living an active lifestyle Val and George are setting a great example for living life to the fullest! (Photo is from a recent trip to Alaska!) Ironically, when Val first started KettleWorx, George "didn't think it looked like much!" At first, George would say, "sure, you just want to see your "boyfriend, Ryan." After trying KettleWorx for himself, George now knows that it might not look like much but it is! Now Val says, "class will be starting at 5 am" and George is beside his wife working out with "all the cute girls" or as Val calls them his "girlfriends." Now George will say to Val when he's coming for a kiss "coming right at ya." It's funny how 4 little words instantly take me to kettlebell punches with Ryan!
Thanks Val and George for letting us share your story and inspire others! As we like to say here at KettleWorx, "It's contagious, in a good way!"
By the way, you can see many more GREAT success stories by joining us on the FACEBOOK fan page. Be sure to shar e your own!
===================================================
Inspire others with your success story! If featured, you'll receive the Advanced Level II Six-Week Body Transformation Series DVD's! Email us at testimonials@kettleworx.com to tell us about how KettleWorx has worked for you. Be sure to include your before and after photo!

KETTLEWORX WORKED?
We would love to hear from you! To be featured in our next newsletter, send us a photo and tell us how KettleWorx worked at testimonials@kettleworx.com
ENTER COUPON CODE:
KWSAVE10
KETTLEWORX KETTLEBELLS!
KettleWorx Premium Kettlebells are unsurpassed in quality. Made from high-grade alloys, each has a vinyl coated body for durability and added safety.

---
KETTLEWORX ADVANCE
TAKE YOUR FITNESS TO THE NEXT LEVEL!
KettleWorx Advance is for those who have completed the Six Week Body Transformation. With KettleWorx
Advance you'll receive an additional six weeks of personal kettlebell training - including 18 entirely new workouts with nearly 100 more advanced kettlebell exercises.
$49.95
---
KETTLEWORX NUTRITION
REFUEL YOUR KETTLEWORX BODY FOR MAXIMUM RESULTS!
You probably noticed it the day after your 1st KettleWorx workout. That subtle burn in muscles you didn't even know you had. What you are doing is building long lean muscle with your KettleWorx program and your body needs protein to achieve the best results. The most effective time to give your body that added protein is the 60 minutes right after you finish your KettleWorx workout. Your body has worked hard and is looking for fuel to reboot itself.
But getting the right amount and type of Protein isn't the easiest thing to do. That's why we've identified what we think is one of the best and tastiest Protein Shakes on the market…PhytoBerry. It is everything you need for a post-workout boost. And as an added bonus, it is chock-full of added Antioxidants to fend off the toxins of the world.

Like Kettleworx?
forward this
page to a friend.
Copyright© 2010 FitnessWorx, LLC. All Rights Reserved.