You are only responsible for your actions, not the outcome
No.
21
You are only responsible for your actions, not the outcome.
Brian Michaels lost 35 pounds using KettleWorx. Estella Hom lost 45 pounds with KettleWorx. Tracy lost 35 pounds post baby weight. Heather got six-pack abs with KettleWorx. The fact is … KettleWorx makes bodies better.
CHECK OUT THE KETTLEWORX FAN PAGE
Find us on Facebook for exercise ideas, user forum, nutrition tips, KettleWorx news and more!
BECOME A FAN!
KETTLEWORX QUESTION AND ANSWER
Q - Hi Ryan…Quick question… I have been doing the cardio, resistance and core dvds, skipping a day in between…is that enough or should I be doing something else? I have started week 5 and do see some results but not sure if there is something I should be doing other than the bonus dvds to boost my weight loss. The scale is not moving. Any suggestions?

- Linda
A - Thank you for your question Linda.
Making the easy effort to improve your quality of sleep will make a big difference in how you look, perform, and even age! When you sleep your brain recharges, your fat burning hormones balance, your immune system strengthens, and your muscles tone. Consistent sleep over the long-term has been linked to "successful" aging.
Lack of sleep due to staying up watching TV until 1 am has these negative effects on your body:
Impacts your positive emotional mood.
Are you having a hard time dragging yourself off the couch to do a 20-minute KettleWorx workout? Most likely you had a short sleep the night before.
It only takes a SINGLE NIGHT of sleep loss for your body to increases systemic inflammation and impair your body's ability to lose weight and tone muscles!
Might be why you're not seeing your weight on the scale drop and/or lacking definition.
Sleep deprivation was a common torture tool in the USSR, and in extreme cases can cause death.
My cute and cuddly 3 week newborn baby boy may be a Russian Spy, because he is using that same torture technique on me and my wife.
How much sleep do you need to maximize Fat Loss and Muscle Toning? I understand the demands of being a parent and working hard. I know SIX hours of QUALITY shut eye is doable and effective. Most people think they can get by with less sleep but all they're really doing is adapting to functioning at a lower cognitive level! We want KettleWorx peak performance level.
My Tips for getting 6 hours of Fat Burning Sleep:
1) Be in bed BEFORE midnight. Pre-midnight sleep equals 2 hours post-midnight sleep!

2) Turn off your TV and computer at least 1 hour before bed. The screen light messes with your body's natural sleep inducing hormones.

3) Listen to a meditation track on your IPod. The deep breathing track can put you to sleep within 5 minutes.
Make a pact to improve your sleep Monday – Friday. Try these techniques. And watch the numbers on the scale break your body weight plateau.
To Your Success,
"What did the carrot say to the wheat? Lettuce rest, I'm feeling beet."

— Shel Silverstein
KettleWorx Quick & Easy Global Salad Dressings
Italian — Whisk together:
1/4 c Extra Virgin Olive Oil
1 TBSP Balsamic Vinegar
1/4-1/2 tsp pureed organic garlic
1/2 tsp CELTIC Sea Salt
1 egg yolk — we recommend using PASTEURIZED eggs
1/2 TBSP Parmesan
Optional — fresh lemon juice
Keeps for couple days in fridge
French — Whisk together:
1/4 c Extra Virgin Olive Oil
2 tsp Dijon Mustard
1/4 c Honey
Grated Fresh Ginger — Adds Flavor PLUS full of antioxidants
Keeps for couple days in fridge
Greek — Whisk together:
1/4 c plain Greek Yogurt
1/2 Lime — squeeze juice
1 TBSP Fresh Dill
1/4 tsp Fresh pureed organic garlic
2 TBSP Extra Virgin Olive Oil
Keeps for couple days in fridge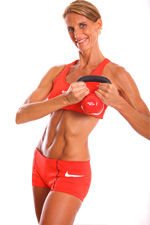 "I still find each day too short for all the thoughts I want to think, all the walks I want to take, all the books I want to read, and all the friends I want to see." — John Burroughs
Just before my 40th birthday a colleague and friend, Chad was in an accident.
In the days and months of recovery, Chad faced and overcame numerous challenges. My family and I wanted to DO something to help. Chad was always willing to go the extra mile for people. He'd given me a crash-course in roofing while we worked on a Habitat for Humanity home. He patiently guided me through the myriad of mortgage banking details. Most importantly he did everything with a smile and wasn't afraid of hard work! My kids and I talked about selling homemade cookies and other ideas, but my husband encouraged us to think big. My 40th birthday was just around the corner and I really wanted to do something meaningful. I didn't want it to just be about me. My husband was also turning 40 and we'd be celebrating our Anniversary. We decided to roll it all into one and throw a "Celebrate Life" fundraiser with our family and friends.
We asked for donations with the following philosophy "anything's appreciated, nothing's expected". We sold $5 raffle tickets so that even if people couldn't be there they could support the cause and have a chance to win something. We did this without telling Chad and his family.
I confess I was a little nervous about how much money we'd be able to raise. But then I thought of my Father-in-Law's advice, "You're only responsible for your actions, not the outcome." We ended up raising just over $4,000 to help Chad and his family put towards a new van to help him adjust to life in a wheelchair. The best part was being able to stop in to say "Hi" to Chad at work and surprise him with a check that he knew nothing about.
There are two things that I think are important about this experience. The first is that as futile as it is to let everyone we respect, admire and care about know that…we have
to try! Second, we never really know who is out there being inspired by something we've said or done and/or who is out there cheering us on.
I say this because I want to say "Thank you" to all the wonderful people, the KettleWorx Fan Page FRIENDS on Facebook who cheer and share the journey towards our common goals to become better in a multitude of ways! If you haven't yet stopped by for a visit, you will have to do so—the organic exchange of people who are genuinely passionate about connecting and encouraging others is wonderful!
Have a Happy & Healthy Thanksgiving!

FEATURED TESTIMONIAL
"It's never too late to be who you might have been." George Eliot
"I have spent my 20's trying different ways to get myself in shape. Nothing ever really got me where I needed to be. I am an avid skier and outdoor enthusiast in general, but got to the point where I really thought some strength training was what I needed. A skier friend of ours mentioned kettlebells a few years ago and finally I did the research and found Kettleworx. And I am glad I did!! This spring, I was already getting in cardio shape with running. I got the kettlebells in June and got started. My husband decided to do it as well, and convinced me that I really needed to fully commit and do the FF42 diet as well. I now have learned a LOT of good eating habits and am continuing a lot of them. My goals were to get down under 130 lbs, get rid of the belly fat (beer belly probably!), and thin down my legs a bit. I went from 141 lbs in June (I really think over the winter I was above 145 lbs) down to 125 lbs currently. Along with meeting these goals, I can feel how much stronger I am all over! I plan to continue with kettlebells to maintain what I have and also to continue getting stronger. Thank You Ryan for putting together such a fun, effective program!!! I am in week one using the 15 lb. weight and I can tell it is going to challenge me. I am up for it, and when I turn 30 in May, I am going to be in the best shape of my life!!!!"
Susie D.
By the way, you can see many more GREAT success stories by joining us on the FACEBOOK fan page. Be sure to share your own!
===================================================
Inspire others with your success story! If featured, you'll receive the Advanced Level II Six-Week Body Transformation Series DVD's! Email us at testimonials@kettleworx.com to tell us about how KettleWorx has worked for you. Be sure to include your before and after photo!

KETTLEWORX WORKED?
We would love to hear from you! To be featured in our next newsletter, send us a photo and tell us how KettleWorx worked at testimonials@kettleworx.com
ENTER COUPON CODE:
KWSAVE10
KETTLEWORX KETTLEBELLS!
KettleWorx Premium Kettlebells are unsurpassed in quality. Made from high-grade alloys, each has a vinyl coated body for durability and added safety.

---
KETTLEWORX ADVANCE
TAKE YOUR FITNESS TO THE NEXT LEVEL!
KettleWorx Advance is for those who have completed the Six Week Body Transformation. With KettleWorx
Advance you'll receive an additional six weeks of personal kettlebell training - including 18 entirely new workouts with nearly 100 more advanced kettlebell exercises.
$49.95
---
KETTLEWORX NUTRITION
REFUEL YOUR KETTLEWORX BODY FOR MAXIMUM RESULTS!
You probably noticed it the day after your 1st KettleWorx workout. That subtle burn in muscles you didn't even know you had. What you are doing is building long lean muscle with your KettleWorx program and your body needs protein to achieve the best results. The most effective time to give your body that added protein is the 60 minutes right after you finish your KettleWorx workout. Your body has worked hard and is looking for fuel to reboot itself.
But getting the right amount and type of Protein isn't the easiest thing to do. That's why we've identified what we think is one of the best and tastiest Protein Shakes on the market…PhytoBerry. It is everything you need for a post-workout boost. And as an added bonus, it is chock-full of added Antioxidants to fend off the toxins of the world.

Like Kettleworx?
forward this
page to a friend.
Copyright© 2010 FitnessWorx, LLC. All Rights Reserved.