KettleWorx Biggest Loser - An Amazing 123lb Weight Loss Story
No.
24
KettleWorx Biggest Loser - An Amazing 123lb Weight Loss Story
Do a KettleWorx Cardio workout Pre-Holiday party and you can have 2 glasses of wine, 3 cookies, or a small plate of cheese & crackers (approx 400 calories) WITHOUT adding to your waistline!
CHECK OUT THE KETTLEWORX FAN PAGE
Find us on Facebook for exercise ideas, user forum, nutrition tips, KettleWorx news and more!
BECOME A FAN!
KETTLEWORX QUESTION AND ANSWER
Q - Hi Ryan…I'm new to your Kettleworx DVD workouts and just saw your KettleWorx Facebook Fan Page. I have to say very motivating!! There is a lot of posts and a lot of information. Can you please recap your KettleWorx tips from 2010 for me? Thank You for making such a wonderful exercise program.

- Jackie M - Canada
A - Hi Jackie,
You are right, the KettleWorx Facebook Fan Page is a fantastic and motivating global community with tons of updated KettleWorx information. To help you save time, here are my favorite 2010 KettleWorx tips and highlights.
1) KettleWorx Kitchen Videos: Watch how to make healthy meals like KettleWorx Pizza and Chunky Monkey Protein Smoothies.
2) KettleWorx Mom Blogs: Read, relate, be inspired by a Mom's life challenges and lessons on finding Health & Happiness…http://www.facebook.com/The-KettleWorx-Mom.
3) Core Definition Technique: AB Snake Hiss and Wet Sponge. When doing KettleWorx AB crunch exercises (Hip Pump and Crunch) HISS like a Snake on the contraction and imagine your AB's are a wet sponge and squeeze all the water out. You'll create more Core Definition within a few workouts.
Check out my favorite KettleWorx Training, Nutrition and Motivation tips and you will be ready to get fit and firm!
Happy Holidays!
To Your Success,
You don't have to cook fancy or complicated masterpieces - just good food from fresh ingredients.

Julia Child (1912 - 2004)
Cuban Rice Vegetarian Volcano - Ready in 20 minutes!
2 cups cooked Brown Rice — (If you don't have a rice maker, a mid-priced cooker is a great investment and/or makes for a great gift!):
1 chopped medium Onion
1 tsp minced Garlic
1 cup chopped Tomato
1/2 TBSP Parmesan
1/4 cup chopped Cilantro
1 can organic black beans (rinsed)
1/4 cup water
Put onion, garlic, tomato, cilantro and black beans in a pot with about ¼ c water, bring just to a boil and then turn down and simmer for 20 minutes.
To serve: Make rice "volcano" in the center of your plate and spoon "hot lava" bean mixture into your volcano. Tasty juices will flow through your rice for delicious flavor.
Added benefit…the combination of the beans and rice makes for a perfect vegetarian protein!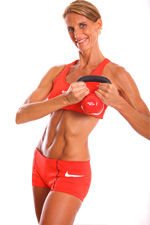 "Dreams are like the paints of a great artist. Your dreams are your paints; the world is your canvas. Believing is the brush that converts your dreams into a masterpiece of reality." — Unkown
I grew up in the days when seatbelts were something you grabbed only by accident when you were looking for something else lost in the deep recesses of the back seat of the car! We licked the bowl when we made cookies. Helmets were worn by racecar drivers, not kids on bikes. And my favorite thing about going to church was what we now call the "large motor skill" toys that were kept locked up in a big storage closet in the undercroft. After church grown-ups talked over coffee and kids played. Along with the tricycles and other toys there was a big orange plastic wheel similar to a tractor tire. I'd watch with fascination as boisterous kids would scramble for their turn and sit inside the middle, holding on to handles and propel themselves forward inside the big wheel, stopping only when they crashed into a wall, rolled down a hill or tipped over!
Finally one Sunday after watching so many other kids rolling in the wheel and having fun, I decided it was time for me to climb inside the 1-foot wide, 3-foot high orange plastic tractor wheel to go for a roll. I'd been watching for so long, I was certain of the thrill I'd have as soon as I leaned forward and with little effort got rolling. There was just one problem; I couldn't get it to roll! I went forward and back like a teeter-totter, but that was it. Each time I got to the point where I needed to commit to moving forward I hesitated in fear and my desire to experience the thrill was derailed. It had looked easier than it was. After several futile efforts my sister came and got behind the "wheel." When I again reached the critical tipping point, she stopped me from going backwards and gave me a nudge to get me over the hump! The thrill was everything I'd imagined it would be! With her help I was able to learn for myself that if you hesitate at the edge of what you really want, YOU might just be the only thing standing in the way of getting what you want!
My kids have never climbed into a litigation-magnet "large motor skill" toy the likes of the orange tractor wheel, they've never ridden in a car without seatbelts and they only lick the bowl when we use pasteurized eggs… But they DO know the pure joy and thrill that comes from facing their fears and pursuing their hearts deepest desires!
I wish for my kids as I wish for us all…to find a way to stay connected with our childhood, to believe in miracles, to dream great dreams and to be so bold as to put what we really want at the top of our "Wish List" with the mindset ANYTHING IS POSSIBLE!
We wish you a very Happy & Healthy Holiday Season!

FEATURED TESTIMONIAL
Romeo, Romeo wherefore art thou Romeo? 123 lbs leaner and better than ever!
Romeo C.
Height 5′6″
Age 46
Starting Weight 275 lbs, Now 152 lbs
Went from a 46″ waist to a 31″ waist!
LOST 123 lbs in 12 months!
"On Dec. 1, 2009 I had started to watch what I ate because my clothes were getting tighter than what I had already had upsized to just six months prior. Dec. 5, 2009 I saw the picture that was taken of me at my oldest daughter's birthday party and I knew my life was completely out of control and something had to be done! The next day I went out and bought a weight scale, I was startled to see that I weighed 275 lbs. I am only 5′6″ so I was huge!"
After 3 months of watching calories and only eating fruits, vegetables, chicken, salmon, and turkey Romeo had lost 25 lbs and knew he was on his way to success but he had "stalled out" and had hit a big plateau. He'd read the only way to overcome plateaus was to either reduce calorie intake or workout. "I had mastered the eating and I was eating very efficient foods so there was no other alternative but to start a workout program, but which one? There were so many options and after researching I decided that I would give Kettleworx a try, but before doing so I went to see my Heart Doctor to get his recommendation." It is recommended that everyone check with his or her doctor before starting KettleWorx, for Romeo this was critical as he'd had two stints put in his arteries at age 42 and was on a blood thinner, beta-blocker and cholesterol medication as well as annual stress tests to check for degradation.
"Well thankfully my Doctor was happy to see that I had lost 25 lbs and upon seeing the results of my stress test he concluded that my heart was 100% and he gave me the ok to begin working out. I asked him if I could come off the medications that he had prescribed me and he took about 1/2 a second to tell me absolutely not LOL! …A few days later my Kettleworx kit arrived and I popped in the intro and the nutrition DVD and I was off and running."
"I found out real quick that I was out of shape, but I kept going for the entire 20 minute session as best as I could cheating only when I had to, but by the third or fourth week I no longer had to cheat. I was gaining confidence and momentum as my strength and endurance increased and my plateau had snapped! I was back on track to losing weight. Upon completion of the first six week cycle I had lost an additional 15 lbs."
Romeo was challenged with a 2 week vacation at an all inclusive resort but found that by eating right and walking the beach for an hour each day he was still able to lose 3 lbs. "I knew then that my metabolism was elevated and I was stoked to get back to my Kettleworx routine! I was feeling great about myself so I challenged myself to complete the next six weeks program in three weeks… I did this routine for four cycles and found myself feeling stronger than ever … I had lost 77 lbs…" (Romeo increased the size of his kettlebell and added the treadmill to his routine).
"After two cycles I returned to my Heart Doctor and he was amazed at my progress, I weighed 177 lbs …he then concluded that my heart was now at 114%. This time he took me off the blood thinners and the beta blockers, and he reduced the cholesterol dose in half…He did interrogate me as to what I was doing to have such success and I smiled and told him I eat right and I do Kettleworx! Which I then had to explain what that was and he said for me to keep doing it because he was very impressed with the results!"
"Today I continue to be fired up about doing my Kettleworx and I won't ever stop! I have lost a total of 123 lbs. I feel great and I look awesome in comparison to what I looked like 12 months ago in December. I went from a 46″ waist to a 31″ waist and the muscle tone all over my body is unquestionably all due to doing the kettleworx routines. Take a look at me now!"
Update: Romeo is now off all medications and only takes 1 daily aspirin! Since achieving his goals for weight loss and health improvement he is down to KettleWorx 3x a week for maintenance!
===================================================
Inspire others with your success story! If featured, you'll receive the Advanced Level II Six-Week Body Transformation Series DVD's! Email us at testimonials@kettleworx.com to tell us about how KettleWorx has worked for you. Be sure to include your before and after photo!

KETTLEWORX WORKED?
We would love to hear from you! To be featured in our next newsletter, send us a photo and tell us how KettleWorx worked at testimonials@kettleworx.com
ENTER COUPON CODE:
KWSAVE10
KETTLEWORX KETTLEBELLS!
KettleWorx Premium Kettlebells are unsurpassed in quality. Made from high-grade alloys, each has a vinyl coated body for durability and added safety.

---
KETTLEWORX ADVANCE
TAKE YOUR FITNESS TO THE NEXT LEVEL!
KettleWorx Advance is for those who have completed the Six Week Body Transformation. With KettleWorx
Advance you'll receive an additional six weeks of personal kettlebell training - including 18 entirely new workouts with nearly 100 more advanced kettlebell exercises.
$49.95
---
KETTLEWORX NUTRITION
REFUEL YOUR KETTLEWORX BODY FOR MAXIMUM RESULTS!
You probably noticed it the day after your 1st KettleWorx workout. That subtle burn in muscles you didn't even know you had. What you are doing is building long lean muscle with your KettleWorx program and your body needs protein to achieve the best results. The most effective time to give your body that added protein is the 60 minutes right after you finish your KettleWorx workout. Your body has worked hard and is looking for fuel to reboot itself.
But getting the right amount and type of Protein isn't the easiest thing to do. That's why we've identified what we think is one of the best and tastiest Protein Shakes on the market…PhytoBerry. It is everything you need for a post-workout boost. And as an added bonus, it is chock-full of added Antioxidants to fend off the toxins of the world.

Like Kettleworx?
forward this
page to a friend.
Copyright© 2010 FitnessWorx, LLC. All Rights Reserved.